---
---

25 Requiem For A Cyborg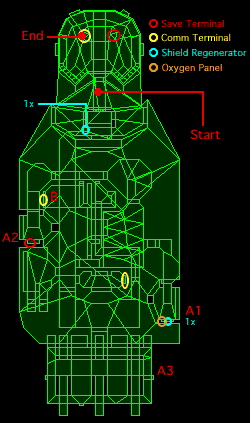 Tips
Keep returning to the save term and shield regenerators at the beginning of the level. You'll appreciate it later.
To complete the level, you need to hit a switch in each of the towers (the switches cause what look like docking clamps to disengage which you can watch outside the windows of these towers.) and then hit all 3 switches in the plasma room. Return to the terminal at the beginning of the level to leave.
Secrets
Down the very narrow corridor, there is a secret panel that opens to reveal a circuit that you can break. When you break this, the platform that you are standing on drops down to reveal a place to get an alien weapon and more circuits. The space between the circuits opens to reveal a hidden communications terminal, which will teleport you back to the beginning of the level.

| | | | |
| --- | --- | --- | --- |
| Lh'owon | Volunteers | Garrison | Citadel |
| Durandal | Captured | Blake | Simulacrums |
| S'pht'Kr | | | |
---