---
---

2 Slings and Arrows of Outrageous Fortune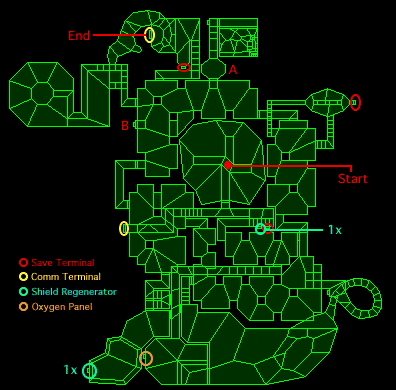 Tips
The map that Durandal shows you at the beginning shows you the location of a good number of doors on the maps. Note the location of these to help you get around the level.
This is a good level to practice underwater fighting with the Fl'ickta and other baddies. Remember to use your fists!
You can also exit via the initial terminal that you started at.
Secrets
In the room to the south of the room where the exit terminal is located, there is a secret door in the 3rd from the left column on the north wall, behind which there are some baddies and the fusion pistol. Behind the middle column on the west wall of the same room, there is a switch that will open a door in the above secret room. Following this passage will lead you to a place where Pfhor continually battle some of the tougher Fl'ickta, but there's an invisible wall that prevents you from getting in on the action.

| | | | |
| --- | --- | --- | --- |
| Lh'owon | Volunteers | Garrison | Citadel |
| Durandal | Captured | Blake | Simulacrums |
| S'pht'Kr | | | |
---