---
Level 1 - R'n'R? Ha, ha, ha...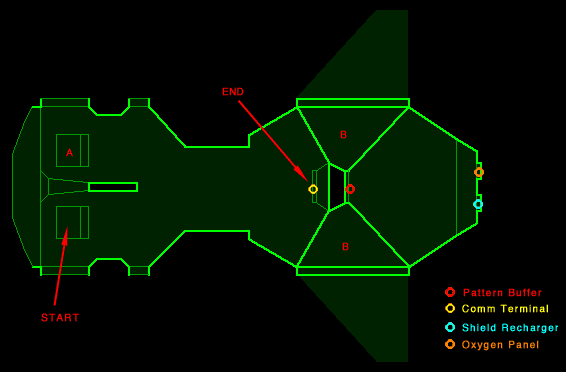 (click map above to open it in a new window)
Goals
Collect weapons and ammo
Recharge, Set starting condition
Walkthrough

This is just an intro level. Collect the pistols on the copilot's seat (A), then head back and read instructions from Wotan. Once you've done this, the platforms (B) will lower, giving you access to an assault rifle, some ammo, and a 1x recharger. Save this game: now if you die on the next level before finding a pattern buffer, at least you won't have to do all the gathering again.

Available Weapons and Ammo
2 Magnum Pistols
1 Assault Rifle

3 Magnum clips
3 AR clips
2 Grenade packs
Secrets

There are no secrets.
---