Dec 24, 2018 (Monday) Home Pfhor the Holidays

Merry Christmas to all Story page readers... everywhere!

And to get you into that festive Marathon spirit here are some cool yule tidings from
ghosts of Christmas past:
President People's The Twelve Days of CRISTmas Version 2 .

Ben Wigler's Jingle Bells.

poena.dare's The White Christmas Term.

And last but not least the perennial Battle Cat's
Christmas Aboard the Marathon
and
The 12 Days of Marathon Christmas.
Courtesy of The Wayback Machine
Have a good one. :)





What's your poison?

These days it's not often you come across something new but this is an official Bungie ad for Marathon 2
that I have not seen before. Check the Bungie's Marathon Ads section for details.
Thanks to Radix <radixgonzo@gmail.com> for this one.


Gregory Smith <wolfy@treellama.org> writes concerning the Convergent Series and
Cody Miller's revelations back in February. See the Convergent Series section for details.





More Marathon-related magazine ads. Radix <radixgonzo@gmail.com> writes:
Two-part advert (part 1 and part 2 for the Power Macintosh, from the March 1995 issue of Computer Games
Strategy Plus. The first Marathon is displayed in the bottom-left corner of the first
page, and said page sounds a lot like a description of it.
Radix refers to part 1 of the advert and the reference to the 8-foot-tall green alien with a spear.
Certainly sounds familiar... as if from an old dream.


Radix goes on to write:
Today I received a copy of "A Pocket Tour of Games on the Internet", written by Scott Taves
and published by Sybex in 1995. It covers a fairly wide variety of Internet-related topics,
from a brief history lesson on the origins of the 'Net, to providers (ex. Portal, Netcom)
and services (ex. Usenet, FTP, Archie), to MUDs and MUSHes and sites dedicated to console
and arcade game info.

The real meat of the book is, obviously, computer games and relevant websites. Marathon
gets about four pages (give or take some shared real estate with other games, which I've
cropped out) of discussion; I also spotted mention of it in an e-mail sample near the
beginning of the book (one day I'm gonna find that issue of Wired...).

Most of these sites are familiar, though I've never heard of the Cantina until now.

See page 1, 2, 3, 4, 5, and 6.
Ah... the Marathon Cantina. Here is Justin's welcome message from AMUG's Marathon Central site.
Welcome to the Marathon Cantina! Pull up a bar stool and get yourself a glass of Pfhorian Ale.
We also have Bob on a Stick and other delightful dishes to choose from! While you're at the
Cantina, we offer many links to other Marathon resources located on the Internet. Pick up
your feet and read the news, Marathon Newsgroups that is! Download the latest software
from FTP sites. Also, be sure and register yourself as a Marathon Net-Player before you
leave! Keep your eyes peeled for the latest edition to the Splatter Shot Hall of Fame.
Enjoy your stay, and tell your friends!
And here is a Cantina pic of Justin and the gang from 1995.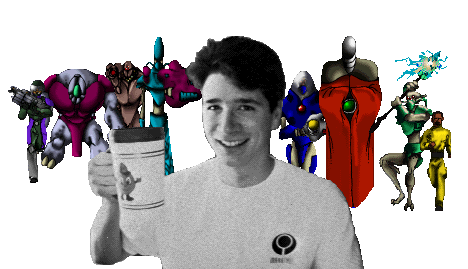 Aaron Freed <aaronjfreed@gmail.com> writes to point out that he has created a YouTube
channel for the Vidmaster page's films. You can find it here.
He writes:
I've been encoding videos from the Vidmaster page and putting them up on YouTube. I've uploaded
Dr John Sumner's entire Infinity pack and all of his M2 films through "Kill Your Television"
("Where the Twist Flops" is encoding as we speak). I know someone else was encoding the films
awhile back, but they stopped a long time ago, and in any case, I don't think the encodes were
as high quality; I've been doing these in full 1080p with Goran's HD textures and a few other
goodies.
He goes on to say:
I won't be able to do this for the M1 films, unfortunately, as Aleph One doesn't support
M1 film playback, and it's unlikely it ever will. I'll have to emulate MacOS 8 or 9 and
run them in vanilla Marathon. Hopefully I can at least get them in 1024x768, but I haven't
run vanilla Marathon in a long time and don't recall what options it supports.

I'm hoping to upload the entire archive (or as much of it as possible - there are a few films
I haven't been able to get to run) by the end of the year. (The films take a long time to
encode, and starting in August or so I won't have as much free time as I do now.) I'll also
put the Rubicon and Tempus Irae film archives up (at least the solo films), and possibly films
from other scenarios if people send them to me.

The other YouTube channel that Aaron refers to is still up and can be found here.
It contains some of the earliest Vidmaster films from the first game.
Popcorn time. :)

Cody Miller <cody@codymiller.org> writes concerning the Convergent Series and lays
another mystery to rest. See the Convergent Series for details.

Brazilian Marathon... NO not what you think. RADIX <radixgonzo@gmail.com> writes:
After much searching, I've finally found some Marathon-related stuff from Brazilian mags.
Most of it's not actually from Computer & Games, from where these were scanned (by the folks
at Datassette, not me); that's for a different post.

Top is a demo disc advert by Z Movie Studio; bottom is a two-page advert for various
Win95 games (second page included mostly for completion). I can't read much Portuguese,
but I can tell that the M2 blurb describes the player as the "prisoner of the computer Durandal"
or something to that effect.

A bunch of Marathon-related things from MacMania issues 12 (Jan. '95), 22 (Feb. '96), and
32 (Jan. '97). Not necessarily in order, and mostly from larger features on multiple games.
All borrowed from Datassette.

The "Matar ou Morrer" article jokes(?) about a Marathon 4 and talks a bit about the three
games that used Marathon 2's engine: Damage Inc., Prime Target, and ZPC.

Details about Marathon 4 can be found <A HREF = "http~fxf´f`~Fxff´xf~~~~ here</A>

So we are all set for next Christmas thanks to Nathanial Krell <nathanielkrell@gmail.com>. He went
back in time and uncovered Battle Cat's long lost Christmas Aboard the Marathon and The 12 Days of Marathon Christmas.
Only 316 days to go folks. :)
---
Go to What's New for Jan - Dec 2017
***TRANSPORT WHEN READY***

Go Back to Marathon's Story Home Page
***TRANSPORT WHEN READY***

Page maintained by Hamish Sinclair Hamish.Sinclair123@gmail.com
Last updated Dec 21, 2018