Dec 24, 2017 (Sunday) Home Pfhor the Holidays

Merry Christmas to all Story page readers... everywhere!

And to get you into that festive Marathon spirit here are some cool yule tidings from
ghosts of Christmas past:
President People's The Twelve Days of Christmas.

Ben Wigler's Jingle Bells.

poena.dare's The White Christmas Term.

Sadly Battle Cat's home page is no longer at webwonks.org so no Christmas Aboard the Marathon
or The Twelve Days of Marathon Christmas.
Have a good one. :)

And don't forget the Marathon Christmas Card.





Back to the future...

If you had a time travelling DeLorean and went back 22 years on this date.... this is what you would see.





In a Story forum post Hokuto <matenshihokuto@gmail.com> draws our attention
to an interesting find in Destiny 2. Hokuto writes:
So, with Destiny 2 out, naturally one of my highest priorities was getting my MIDA Multi-Tool back,
since a) it's a Marathon reference and b) it's a pretty fun gun. Part of the quest to regain it
involves acquiring an SMG called the MIDA Mini-Tool - which, despite being a legendary instead
of an exotic weapon, has its own lore tab, reading as follows:

2472/11/17 - 4.9°S 0°E
AUDIO ONLY
Strauss is gone. Whole sky alight as his ship set off. I might be the
last MIDA survivor on Mars. The gun detected teleports yesterday
and I had to move camp. Cannot shake the fear that they will send
battleroids; even this AI marvel couldn't save me.

Shot the ice this morning. The gun fired a thermal round and then a
pellet of water purifier. Came out pure and sweet. Marvelous. I've
been reading the gun's Encyclopedia Arcana. All about the crash that
became Strauss's obsession and hope. "Metastability in the
salvaged construct!" Ha ha! Let's hope our ideals too can pass
through grief, fury, and envy into a new freedom elsewhere.

Wonder if the gun heard me when I asked to go somewhere better.
Wonder why it led me here. Going to follow its compass tonight.
Down below.
Hokuto posted a screenshot of the lore tab for the MIDA Mini-Tool.
If like me you have not played Bungie's Destiny or Destiny 2 you might be confused by terms
such as legendary and exotic weapons, lore tabs and the Encyclopedia Arcana. But you
will be familiar with the terms MIDA, Strauss and battleroids.
You might even recognise the date 2472/11/17 as being the day after the Marathon was launched
or more correctly left the orbit of Mars.
There is also reference to an AI and what appears to be the three stages of Rampancy - Grief,
Fury, and Envy.
In Marathon these stages were called Melancholia, Anger, and Jealousy. And in Marathon
Infinity they were called Despair, Rage, and Envy.
Of course... Marathoners being Marathoners we were not content to leave it at that.
Treellama <wolfy@treellama.org> and Forrest of B.org <forrest@bungie.org> point
out that based on the Martian coordinates 4.9°S 0°E the person in the lore tab
was most likely standing on the edge of the Airy-0 crater on Mars and ready to descend
down into it following some compass bearing.
Perhaps it is possible to do that in the game... but I digress.
Hokuto went on to post a screenshot of the lore tab for the MIDA Multi-Tool.
More Marathon references in this including a tongue-in-cheek stab at what MIDA stands for
and a reference to MIDA killing ten percent of the Martian population which is in fact
taken from a Marathon terminal on The Rose.
Good to see that someone at Bungie has an interest in Marathon and has delved into the
Story page. Perhaps like the old Gods in American Gods... old games like Marathon will
not be forgotten.


Bruce Morrison <bruce@manuptimestudios.com> writes:
The game No Man's Sky (an amazing procedurally generated epic space game) is putting out
a huge update (probably will go live later today Wed, or Thurs). In their trailer to show
off the new features they show off a base they constructed. Check out their wall decals: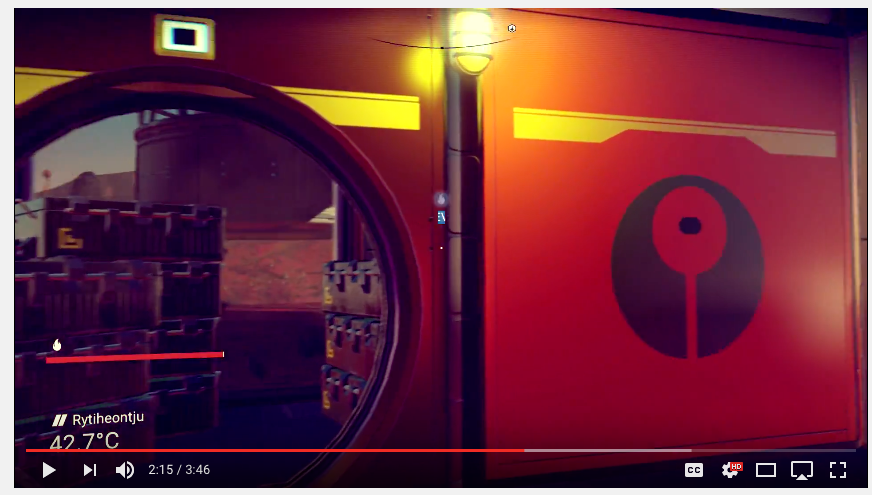 Like an old dream.

In a Story forum post President People <PresidentPeople@verizon.net> writes:
Out of curiosity, I checked the Infinity demo's Sounds file against the full version.
Not much to write home about: all of the new sound slots are 8-bit, and a few random
VacBob quotes are transposed with another in the same group for some reason. One new
thing I did find though, in VacBob's first Trash Talk slot (later replaced with "I got 'im!"):

"Nasty!", he says. I wonder which hard death animation VacBob saw. Shame it's only in 8-bit.

Can't remember if the Infinity demo's been covered before, but I definitely didn't see this
in the Sounds section.
---
Go to What's New for Jan - Dec 2016
***TRANSPORT WHEN READY***

Go Back to Marathon's Story Home Page
***TRANSPORT WHEN READY***

Page maintained by Hamish Sinclair Hamish.Sinclair123@gmail.com
Last updated Dec 24, 2017