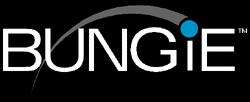 heads for the coast
As part of our continuing effort to take over the world one small chunk at a time, Bungie Software is pleased to announce the opening of our west coast office. (Having established a bunker in the Midwest, we're now sweeping the country in a westerly fashion before crossing the Pacific and conquering Japan.)

Based in sunny San Jose, California, BungieWest is an entirely new development arm of Bungie Software, creating the technology that will host the next generation of computer games. No marketing drones, no tech support, no press wranglers , no objective but to make the coolest games on the planet. No lie.

BungieWest is currently staffed by a small and exclusive group of programmers - including the people who invented QuickDraw 3D technology. And we're looking for an artist with the necessary talent and drive to help them realize the games of the future. You must live in or be willing to relocate to California and share our love of "your mom" jokes. Those uninterested in creating new gaming paradigms for the twenty-first century need not apply.

Some of you may suspect this is only a pipe dream, a carrot on a stick held out by the sadistic freaks at Bungie. For you doubters: photographic evidence of BungieWest!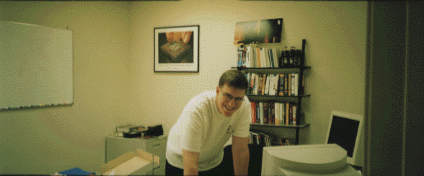 Eric Klein, Bungie's Director of New Business, grimacing in pain as he performs his morning workout in the BungieWest Rec Room. Eric's dedication to staying "pumped" helps him to license Bungie technology through brute force and ruthless intimidation.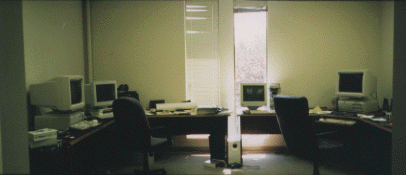 The first light of morning creeps through a window into an empty office at BungieWest HQ...but no one's there to appreciate it. The staff is enjoying a healthy breakfast in the fully stocked bar in the next room.
| | |
| --- | --- |
| | Here we see an area of the BungieWest offices that hadn't been fully redecorated at the time this picture was taken. Recognizable objects include a stack of Marathon 2s, boxes full of reference manuals and software, and the ever-present garbage can. And behind the carefully closed and locked door? A secret project, details of which are known only to the elite few who populate this office. What brave individual has the talent and the temerity to join their ranks? |

Many would kill for a job at BungieWest. But since cold-blooded murder is no longer required for a job at Bungie, why not just apply for the job the old-fashioned way?