Dec 24, 2014 (Wednesday) Home Pfhor the Holidays

Merry Christmas to all Story page readers... everywhere!

And to get you into that festive Marathon spirit here are some cool yule tidings from
ghosts of Christmas past:
President People's The Twelve Days of Christmas.

Ben Wigler's Jingle Bells.

poena.dare's The White Christmas Term.

And last but not least the perennial Battle Cat's Christmas Aboard the Marathon
and The Twelve Days of Marathon Christmas.
Have a good one. :)




December 21, 2014 (Sunday)


Happy Birthday Marathon.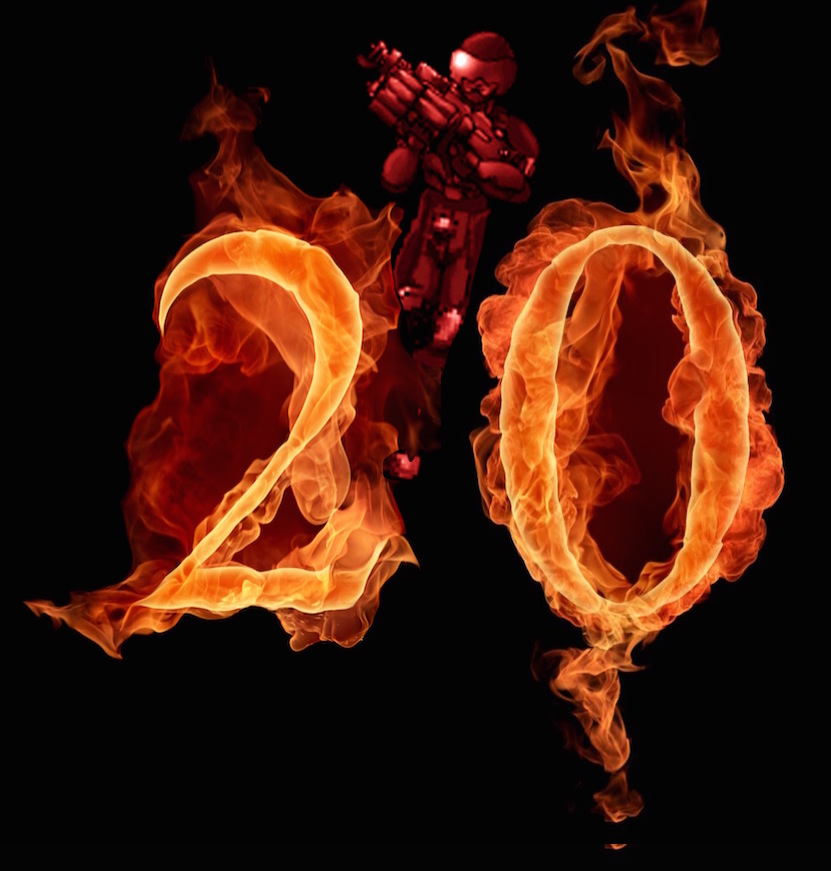 December 20, 2014 (Saturday)

If you had a sealed copy of the Marathon Trilogy Box Set would you open it?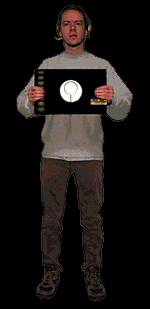 December 19, 2014 (Friday)

VikingBoyBilly <billewaterman@gmail.com> does You Think You're Big Time? You're Gonna Die Big Time!
in the Tour of Duty series.
December 18, 2014 (Thursday)

HEY is this thing still on?
Like the Universe... The Tour of Duty series is slowly coming to a close. Here are some of the
Infinity levels recently completed:
Eat the Path
You're Wormfood, Dude
By Committee
One thousand thousand slimy things
A Converted Church in Venice, Italy
Son of Grendel
Strange Aeons
Bagged Again

Will they reach the end before the holidays?
December 17, 2014 (Wednesday)

Happy Last polgon filled day. It wasn't Dec 14, 1994. The proof.
December 11, 2014 (Thursday)

Marathon Retrospective... a 20-year video retrospective of the Marathon series.
December 5, 2014 (Friday)

To get you in that seasonal spirit... Preseasoned Pfhrechpfhry Greetings.
November 23, 2014 (Sunday)

Jumping Jack BOB... it's the 20th anniversary of the release of the Marathon demo v0.0
Hark back 20 years and find out about jumping BOBs, voices in the pillar, the impossible
room, a strangely active platform and what happens if you play the demo a 36th time?
October 15, 2014 (Wednesday)

Pathways out of Darkness. Philtron draws some interesting parallels between Destiny and Pathways
into Darkness.
September 19, 2014 (Friday)

Happy Birthday to the Story page. 19 years and counting.

Lokal <tomek.lokal@op.pl> provides an interesting insight into the Gheritt White terminal.
Added this to the Gheritt White section.

Tom Cruise? Is that you? Did Tom Cruise really play Marathon and just where did he get stuck?

Happy Bungie Day... everyone.

In case you get lost... Operation: Desert Storm maps and the real tru7h behind the head of Saddam Hussein.

The Tour of Duty series continues in fine style with the following Infinity levels:
Where Some Rarely Go
Thing What Kicks...
Electric Sheep Two
Whatever You Please
Carroll Street Station
Naw Man He's Close
Foe Hammer
Hang Brain
Electric Sheep 3

The daily random pic continues:
43 What's wrong with this pic?
42 Mustard... lots of mustard.
41 Rare Marathon goodies.
40 BLAM.

39 DCROMLEY?!!!
38 20/10 Scenario Pack.
37 Anyone for Soccer.
36 Martin didn't get this one.
35 Things that go hoot!
34 Nobody got this one.
33 Microsoft Bob?
32 Who writes this stuff anyway?
31 The missing Marathon Preview level.
30 So you want to be a Vidmaster?.

29 BANG... BANG... BANG... and... BANG.
28 So Tycho was originally a good guy... right?
27 Lasciate Ogne Speranza, Voi Ch'Intrate.
26 This is not fun!
25 Not so easy now!
24 The stuff that keeps you going.
23 I can't read the small writing.
22 Get Some!
21 Dude!... It's a flamethrower.
20 See what they did to Marathon.

19 Marathon 2 CD 3.
18 Marathon 2 CD 2.
17 Marathon 2 CD 1.
16 Who put that there?
15 Beam me up!
14 It was a washing machine... no wait...!!!
13 Alas, poor Yorick! I knew him
12 Used... but not abused.
11 15 species of aliens.
10 A nightmare on...


The Rampancy boys take on the following Infinity levels:
Confound Delivery
and
Electric Sheep One


What are your favourite Marathon 2 quotes?

The Tour of Duty series continues with the Infinity levels:
Post Naval Trauma
and
Where Some Rarely Go

Narcogen and Blackstar continue their co-op tour of Marathon Infinity with:
Rise Robot Rise
and
Poor Yorick

Some random goodness...
1 Let's try this... again.
2 JUGGIES....
3 So what's up with this?
4 Marathon Comic?
5 A PID T-Shirt?
6 Rule 34?
7 Who does hand-drawn sketches these days?

What are your favourite Marathon 1 quotes?
It's tough being green!

Except on St. Patrick's Day!

Happy St. Patrick's Day to all Story page readers... everywhere!

Martin takes on Acme Station in the Tour of Duty series.

After a short break the Rampancy boys, Narcogen and Blackstar, begin their co-op tour of
Marathon Infinity. Watch as they puzzle over events in Ne Cede Malis

Martin, VikingBoyBilly and Hokuto continue the Tour of Duty through Marathon Infinity
with the following levels:
Poor Yorick
Two For The Price of One
Confound Delivery
Electric Sheep One
Where are monsters in dreams
Aie Mak Sicur
If you want to learn more about Infinity now is your chance. Some new insights into the
story, some little know secrets revealed and lots of questions raised.

VikingBoyBilly <billewaterman@gmail.com> continues the Tour of Duty through Marathon
Infinity with Rise Robot Rise.
He also takes a detour into the co-op level Robot World Arena.
The full list of Infinity levels so far completed in the Tour of Duty series are:
Ne Cede Malis
Rise Robot Rise
Robot World Arena
If you are still confused about Infinity's plot then now's your chance to pose those
difficult questions to our resident team of current experts on the Story forum.

Sometimes the obvious just needs to be stated. Daniel Grant <daniel.grant.2401@gmail.com> writes:
I have something to point out regarding the level info page. On Duality, only the
definition of Duality is given as a reason for the level's name, but there is more
than likely another reason...

Duality was a game Double Aught was planning to make, even at the time of Infinity.
Added this to the What's in a Name section for completeness.

Aleph One 1.1 has been released.
This is the first (non beta) release to support the original Marathon data files.
Lots of fixes since the last beta so grab this and start playing Marathon like it
was in the '90s.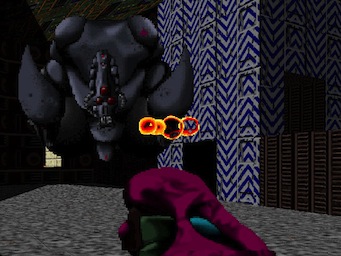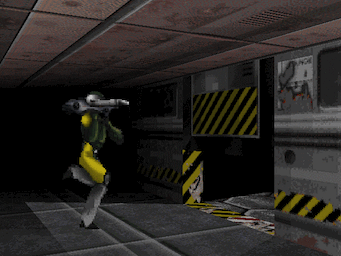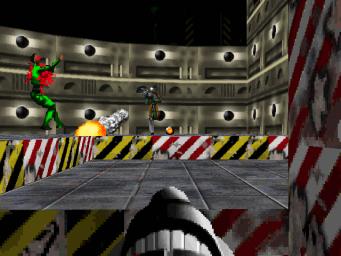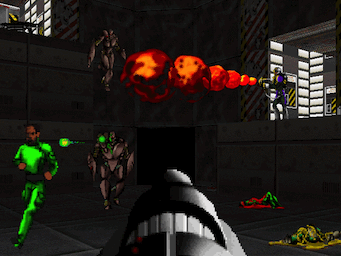 Happy New Year to all Story page readers... everywhere!

Back in 2011 we pointed out that Cody Miller had completed a speed run of Marathon
Infinity on Total Carnage in 24:35. He uploaded a movie of the epic endeavour.
Now thanks to the miracles of ancient technology, Cody has unearthed the original films
and has made them available for download. In case they ever get lost again you can
also get them here (.zip format). They will work with the current version of Aleph One.
Now a 24:35 speed run of Marathon Infinity is not too shabby. But can it be done any faster?
Well Hopper says... Yes!, He points out that Cody missed a little know secret short cut switch
on Ne Cede Malis, which allows the player to bypass most of the level.
Secret shortcut switch?!!!. Oh yes, indeed. First mentioned on the Story page back in May 27, 1997.
But now totally exposed for all to see thanks to the miracles of modern technology. Hopper writes:
The switch is near the start, in the room with the save terminal and oxygen recharger.
It's in the lower right area of the map:

To the right of the oxygen recharger, there's a vertical strip of lighting in the wall
texture. Use the Action key on that strip and both doors to the final area will open.
Now this secret is not shown in the Marathon Spoiler Guide nor in Bungie's guide to Marathon
Infinity. So what other short cuts are there in Marathon Infinity? How fast can Marathon
Infinity be completed? In under 20 minutes? Who will be the first to break Cody's record?
Cody himself... or you?
But remember... make sure you know all the short cuts before you attempt it. :)
---
Go to What's New for July - Dec 2013
***TRANSPORT WHEN READY***

Go Back to Marathon's Story Home Page
***TRANSPORT WHEN READY***

Page maintained by Hamish Sinclair Hamish.Sinclair123@gmail.com
Last updated Dec 24, 2014