The "seven words" caption competition
(aka. What the Hell is Matt Soell Thinking?)

In "seven words" what caption best describes this picture?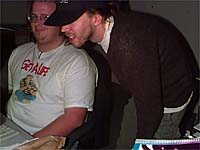 Matt Soell (smiling) and Doug Zartman

Now the caption doesn't actually have to be what Matt is thinking, it might be what Doug is saying, or simply a description of what is going on in the picture. The best "seven words" caption wins a Marathon's Story page t-shirt and a grab bag of Bungie goodies from the Bungie Fanfest. I'll read out the best seven captions at the Fanfest and announce the overall winner. The results will also be posted to the Story page. The competition is open to everyone, Fanfest attendees as well. You can enter as many times as you like. All judging will be done by yours truly. The prizes will be posted out to the winner (unless that person is at the fanfest).
Now for the hard part. The caption should be funny and MUST NOT contain any lewd or derogatory remarks (within reason). Hard I know but this is a family page remember, the fanfest is a family event, and this IS Matt Soell we're talking about. So you'll have to come up with some subtle seven worder to win. The closing date for the competition is Monday 17th July 7.17 pm EST. Remember this is your chance to win a Marathon's Story page t-shirt and other cool stuff.

Send your captions to Hamish.Sinclair@tcd.ie